back to overview
Damian Leonardo Arévalo Martínez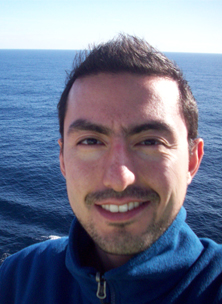 Research area
Projects
The focus of my research is marine biogeochemistry. I am particularly interested in the investigation of the marine distribution and sea-to-air fluxes of climate-relevant gases such as nitrous oxide, carbon dioxide and carbon monoxide in coastal upwelling regions. My approach includes development and field deployment of high-resolution measurement systems based on the off-axis integrated cavity output spectroscopy (OA-ICOS) technique, as well as the use of several chemical and biological methods to elucidate the processes responsible for the sources and sinks of these gases in the ocean.
Contact
Tel.: +49 431 600-4207
E-Mail

Research activities
On the trail of the missing carbon monoxide from the ocean: first global maps
Carbon monoxide (CO) plays a crucial role for atmospheric chemistry and is a significant component of the marine carbon cycle. The ocean is considered as a relatively minor source of atmospheric CO however, a very high degree of uncertainty is associated with the available emission estimates due to the omission of coastal regions and potentially important biological sources such as production by phytoplankton. In this project, we aim to significantly improve CO emission estimates by reassessing its fluxes based on new measurements with unprecedented, high temporal and spatial coverage. Moreover, we will use a novel approach to estimate the global significance of biological production of CO. For this, we will use a multiyear, multiplatform analysis to (i) create a first global map of CO emissions, (ii) provide a first global estimate of the CO source from marine phytoplankton, and (iii) assess the development of future CO emissions under climate change scenarios.