back to overview
Ruth Schmitz-Streit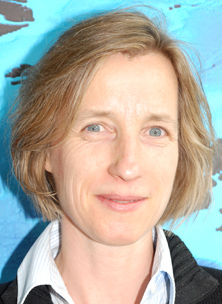 Representative Ocean System Understanding
Projects
Our main research interests are to understand (i) regulation of nitrogen metabolism on the molecular level in Prokarya (Bacteria and Archaea), (ii) the marine nitrogen cycle, (iii) the interaction of Archaea with the human innate immune system and biofilm formation on living and non-living surfaces. Aiming to identify novel enzymes and drugs from marine environments we are further mining for novel genes by metagenomic approaches for potential biotechnological and medical use. The department provides an interactive and interdisciplinary working environment, in which we work on different scientific questions and aspects in close collaboration with other institutes in Kiel and Germany applying sophisticated and state-of-the-art technologies. Our teaching activities include Bachelor moduls (e.g. physiology and regulation in microorganisms, genetics and molecular techniques) and Master moduls (e.g. microbial diversity studies, microbial stress response and biotechnological aspects using state-of-the-art methods). Within the integrated school of ocean science (ISOS) we train Phd students interdisciplinary in several molecular aspects of marine sciences. Our department is a member of the Excellence Cluster Future Ocean, the DFG priority programme SPP 1258 on Prokaryotic regulatory RNAs, the DFG 'Forschergruppe' on the Prokaryotic immune system CRISPR (FOR1680) and SFB754 on Climate - Biogeochemistry Interactions in the Tropical Ocean.
Contact
Tel.: +49 431 880-4334
E-Mail

Research activities
Seeing is believing ‐ localisation of quorum sensing secondary metabolites on seaweed holobiont by imaging techniques
This project aims to map spatial localization and identification of quorum sensing (QS) secondary metabolites on the Baltic seaweed Fucus vesiculosus. A combination of three powerful visualization techniques, scanning electron microscopy (SEM), catalyzed reporter deposition-fluorescence in situ hybridization (CARD-FISH) and desorption electrospray ionization mass spectrometry (DESI-MS) imaging will be used to analyze the complex assemblage of surface microbiome and to describe hot spots producing QS metabolites. Secondary metabolites (SMs) of the i. microbial epibiota, ii. epibiont-free algal surface and iii. interior algal tissues will be differentially located and identified by highly sensitive metabolite profiling. The identified phylogenetic information and genetic pathway identification of the surface microbiome will be related to with QS activity and spatial distribution. We aim to pinpoint secondary metabolite locations of F. vesiculosus to shed light into chemical communications between hostmicrobe and potentially intermicrobial interactions on selected seaweed microregions.